Student Research Highlights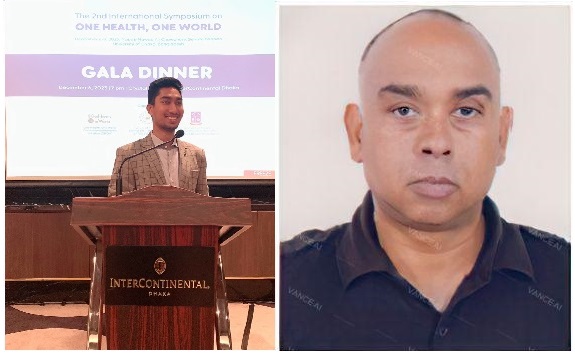 Md. Sahil Rafiq, recent bachelor degree graduate of NSU's Department of Civil and Environmental Engineering, participated in The 2nd International Symposium on One Health/One World held on 06-08 December 2023 at the University of Dhaka. He was recognized as "an upcoming young researcher" and received a Certificate of Award for Best Paper. His paper is entitled "Sustainable Treatment of Textile Processing Wastewater in Resource Challenged Economies: Utilizing Calcium Hypochlorite Oxidation Followed by Sand Filtration with Waste Blast Furnace Iron Slag for Repurposing Treated Effluent in Wet Processing." Sahil's research project was supervised by Dr. Nadim Khandaker, Associate Professor, NSU Department of Civil and Environmental Engineering, who is one of the co-authors and corresponding author of the paper published by MDPI in the Proceedings of the OHOW 2023. DOI: https://doi.org/10.3390/OHOW2023-16569. Congratulations to Sahil and Professor Nadim for their research achievement, and best wishes to Sahil in his planned pursuit of graduate studies.
Student Research Highlights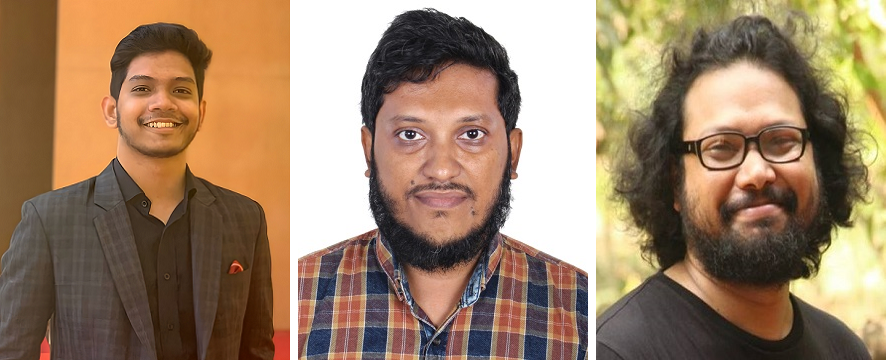 Ibrahim Abdullah Mannan, former thesis student of Professor Shawkat Islam Sohel in the Department of Environmental Science and Management, has successfully published as first author (with co-authors Professor Muhammad Sujauddin and Professor Sohel) an article entitled "Evaluating the Financial Effectiveness of Funded Projects on Tiger Conservation in Bangladesh," Tropical Conservation Science, issued online on 15 July 2023, https://doi.org/10.1177/19400829231188648. Ibrahim conceptualized and designed the review along with Professor Sujauddin, collected the required data and information, analyzed the data and information and wrote the initial draft of the paper, which was thereafter edited by all co-authors for publication in the journal. Congratulations to all authors and to Ibrahim for a successful dissemination of this research project.
Student Research Highlights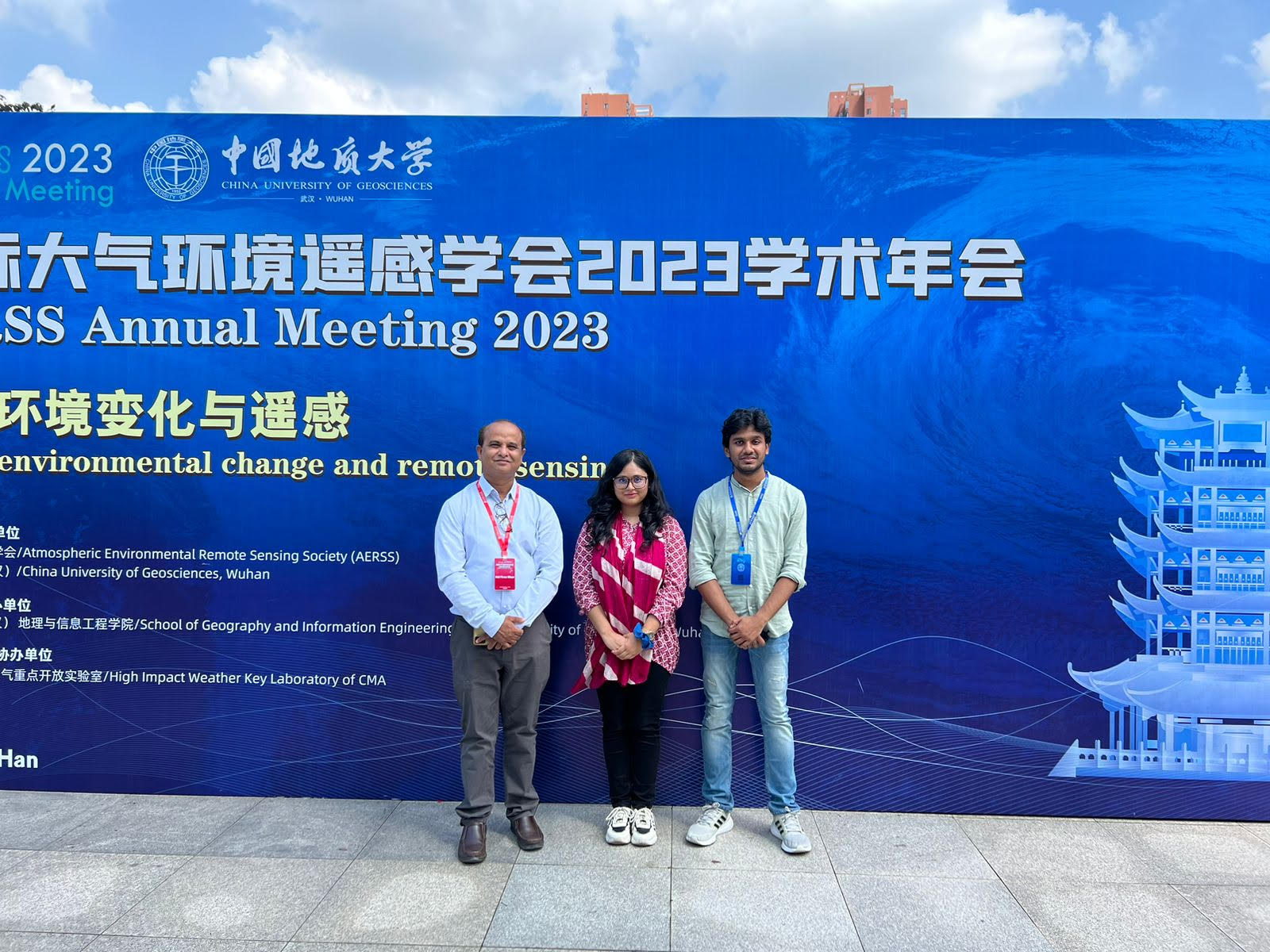 Ms. Nazifa Nawyal and Mr. B.M. Zuhair Siraj, two students working in the aerosol research group of the Department of Environmental Science and Management, received a "Travel Award" to attend an international conference in Wuhan, China, from 16-19 September 2023. The Atmospheric Environmental Remote Sensing Society (AERSS), jointly with the China University of Mining and Technology (CUMT), hosted this conference. Both students produced research papers for the conference: 1. Ms Nazifa Nawyal Title: Coal-fired power plant local and regional impact on aerosol and gas composition: Implications for human health 2. Mr. B M Zuhair Siraj Title: Climate Change and Air Pollution Impact on Asthma Prevalence over Dhaka City in Bangladesh At the conference, Nazifa won the Best Poster award for her presentation, while Zuhair's research presentation also received favorable review at the conference. Congratulations to Nazifa and Zuhair, as well as to their faculty mentor, Professor Md. Firoz Khan, ESM.
Student Research Highlights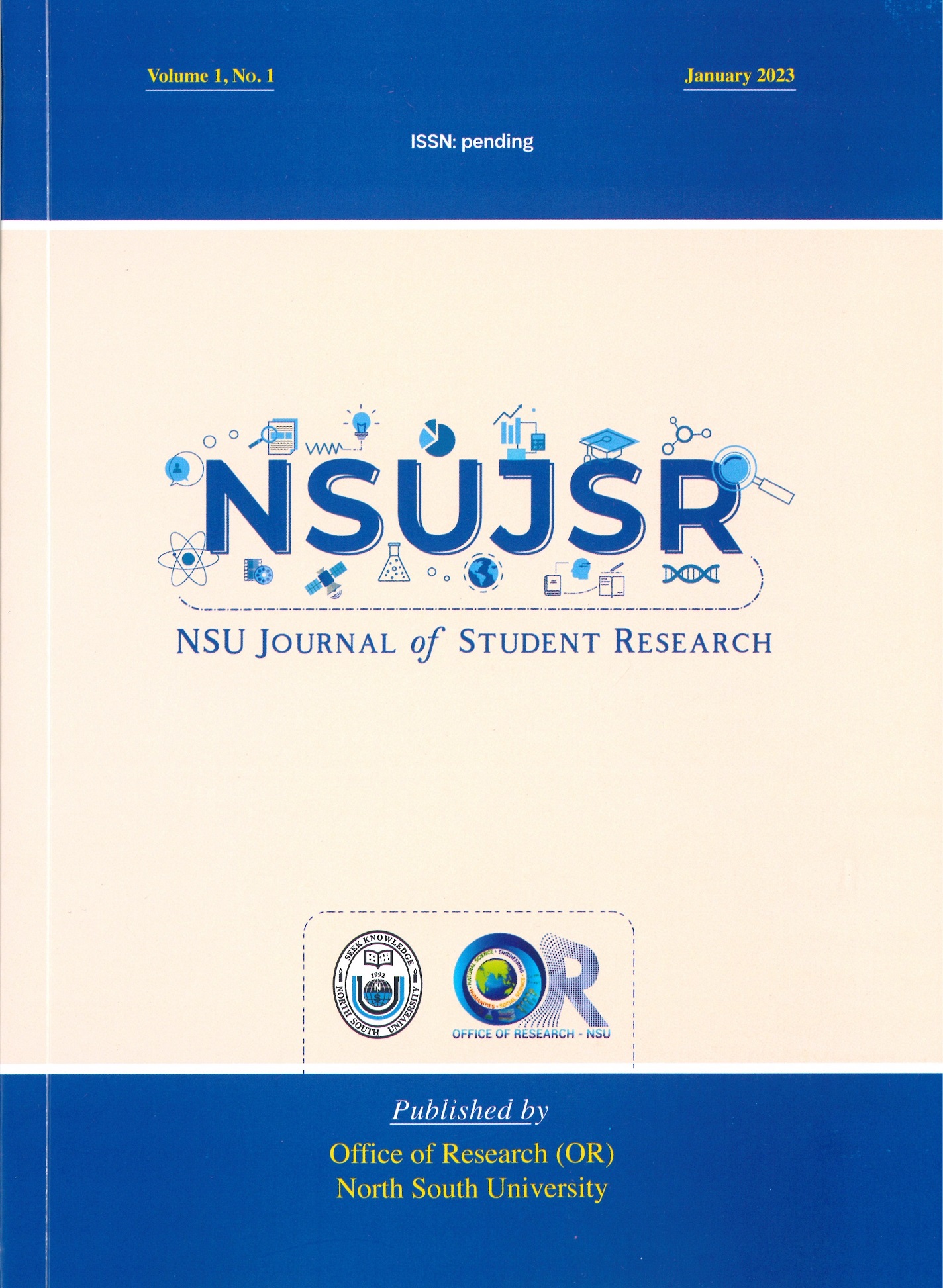 "A dream comes true!" Those are the words of Dr. Mohammed Nuruzzaman, faculty advisor to the North South University Journal of Student Research as he writes his "Brief Note" introducing the first issue of the journal (Volume 1, Number 1, January 2023, published under auspices of the Office of Research-NSU). Living up to their aspirations initiated in early 2022, the editorial staff of the journal, headed by editor-in-chief Sakir Mohammad (a graduate student in the South Asian Institute of Policy and Governance), managed to publish six research articles that range across several disciplines: an analysis of Fyodor Dostoevsky's Crime and Punishment; understanding "women's identity" in Jayanta Mahapatra's poetry; review of "the female malady" and "pseudo-feminism" in the 2021 Bangladeshi film, Rehana Maryam Noor; a technical assessment of access to electricity and cross-country differences in sectoral productivity and economic convergence; analysis of the issue of Bangladesh's reliance on foreign aid, the role of domestic savings, remittance, and exports; and a legal review of the maxim, 'ignorance of the law cannot be used as an excuse', and whether the maxim should be relevant today. Congratulations to the journal's editorial team, with hope for continued success with forthcoming issues of the journal.
Student Research Highlights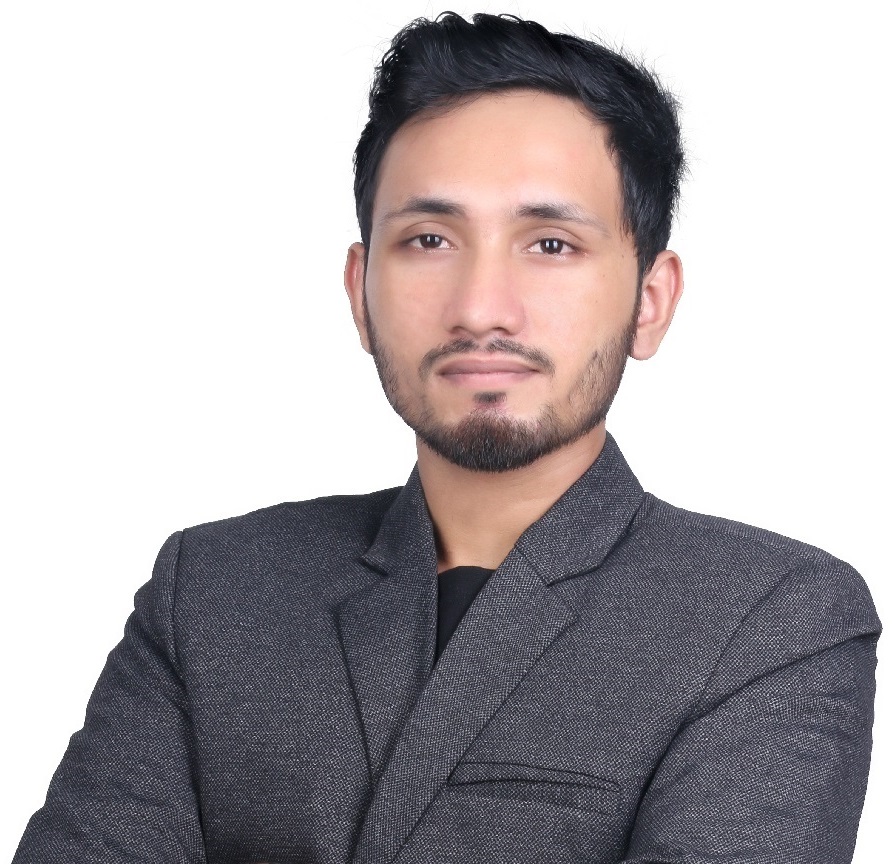 Elias Hossain, a graduate student in the Computer Science & Engineering program of the School of Engineering and Physical Sciences here at NSU, is first author in a collaborative research article entitled, "Natural Language Processing in Electronic Records in relation to healthcare decision-making: A systematic review," published in Computers in Biology and Medicine, Vol. 155, March 2023, a Q1 (SCIMAGO) ranked journal. Co-authors include researchers from the School of Mathematics, Physics and Computing of University of Southern Queensland, the School of Management and Enterprise, University of Southern Queensland, the School of Nursing, Queensland University of Technology, Metro North Mental Health of Herston, Queensland, the School of Business, the University of Queensland, and the Center for the Study and Prevention of Suicide, University of Rochester, New York. The journal is published by Elsevier.
Student Research Highlights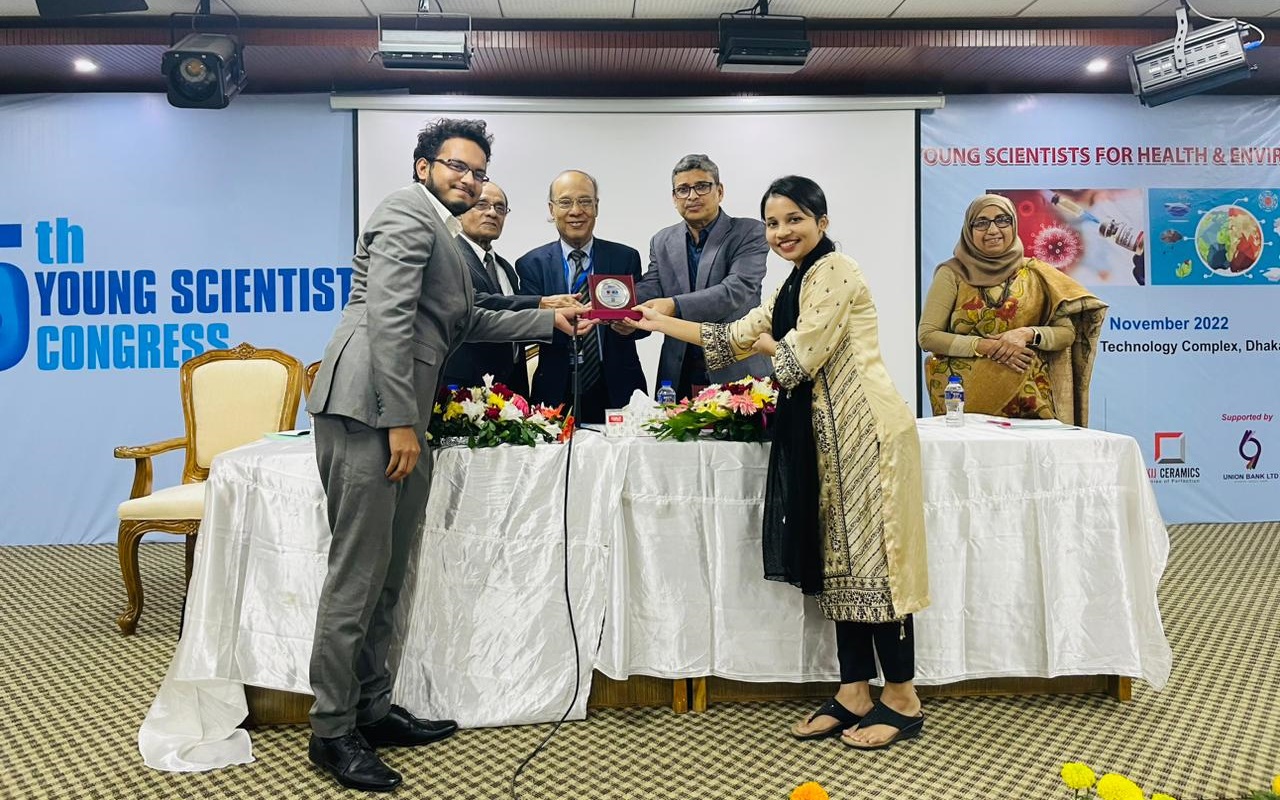 Tunazzina Zaman Khan, Shekh MD Newaj, Rehnuma Tabassum, Jannatul Ferdous, and Waseqa Khan, all young researchers in a research team from NSU Department of Pharmaceutical Sciences supervised by Dr. Shazid Md. Sharker and Dr. Hasan Mahmud Reza, recently participated in the 5th Young Scientists Congress (YSC5) organized by the Bangladesh Academy of Sciences (BAS) and held on 25-27 November 2022 at the National Science and Technology Complex (Biggyan Bhaban) in Agargaon, Dhaka. The theme of the Congress was "Young Scientists for Health & Environment." The research team was recognized with the 1st Prize in Pharmaceutical Science for a research project involving development of nanoscale PLGA chemotherapeutic nanoparticles (NPs) containing doxorubicin intended for use in the treatment of cancer. Congratulations to the research team for their achievement as young scientists.
Student Research Highlights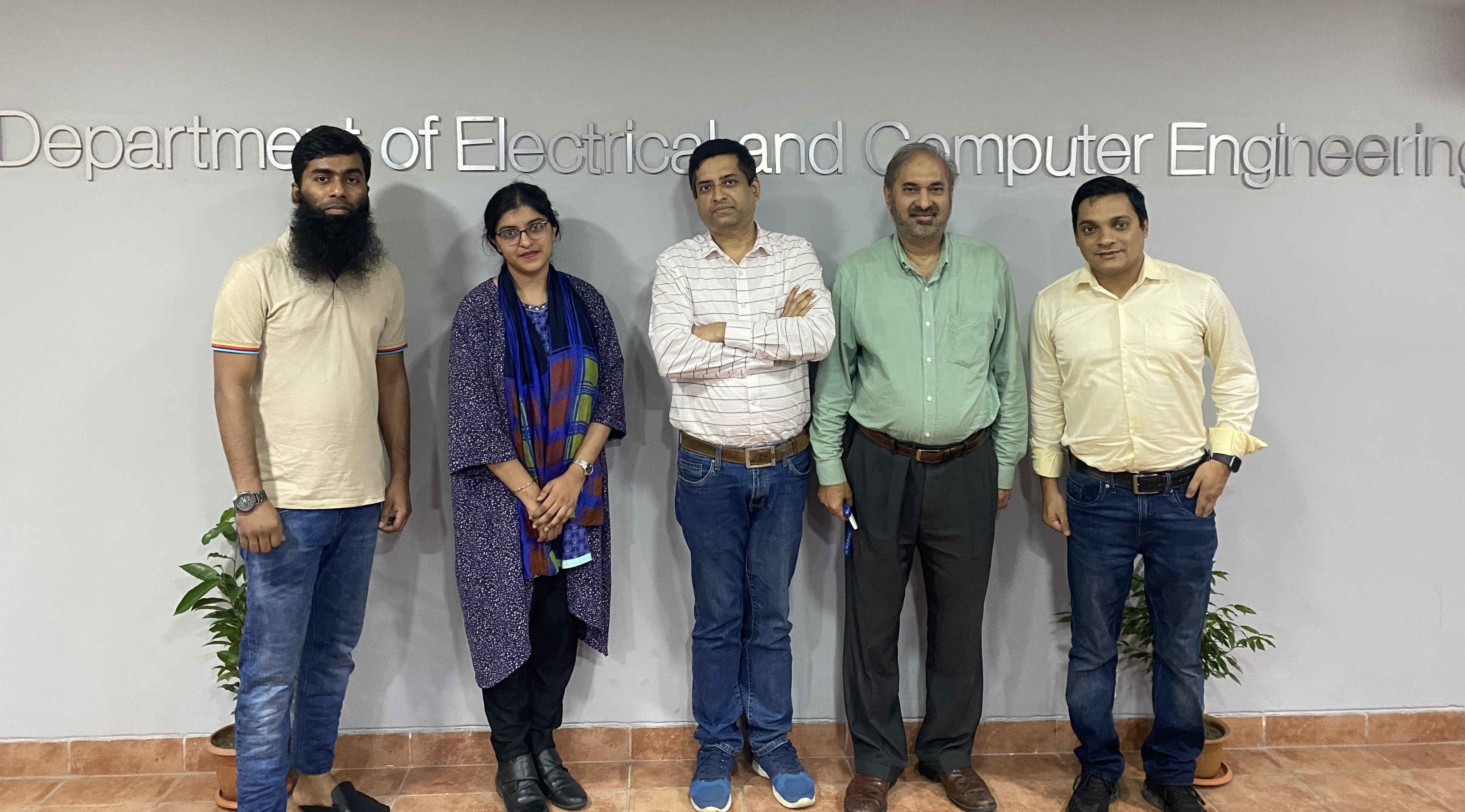 Ms. Mahbuba Yesmin Turaba, Mr. Mehedi Hasan, and Mr. Nazrul Islam Khan, MSCSE students engaged in research under the supervision of Dr. Hafiz Abdur Rahman, Professor, Department of Electrical and Computer Engineering and Director, Cyber-Physical Systems Research Lab, NSU, received the "CCCI 2022 Best Paper Award" for their paper entitled, "Fraud Detection During Financial Transactions Using Machine Learning and Deep Learning Techniques," at the IEEE International Conference on Communications, Computing, Cybersecurity, and Informatics (CCCI, 2022), held at Dalian, China, 17-19 October 2022. Professor Rahman reports the student research team has demonstrated that Machine Learning can also be used for Online Financial Transactions' fraud detection with very high accuracy (99.94%) in addition to very high efficiency, which outperforms previous results. Prof. Dr. Rahman remarks further, "This is indeed a great achievement of our students." Congratulations to the research team, indeed, for a noteworthy achievement.
Student Research Highlights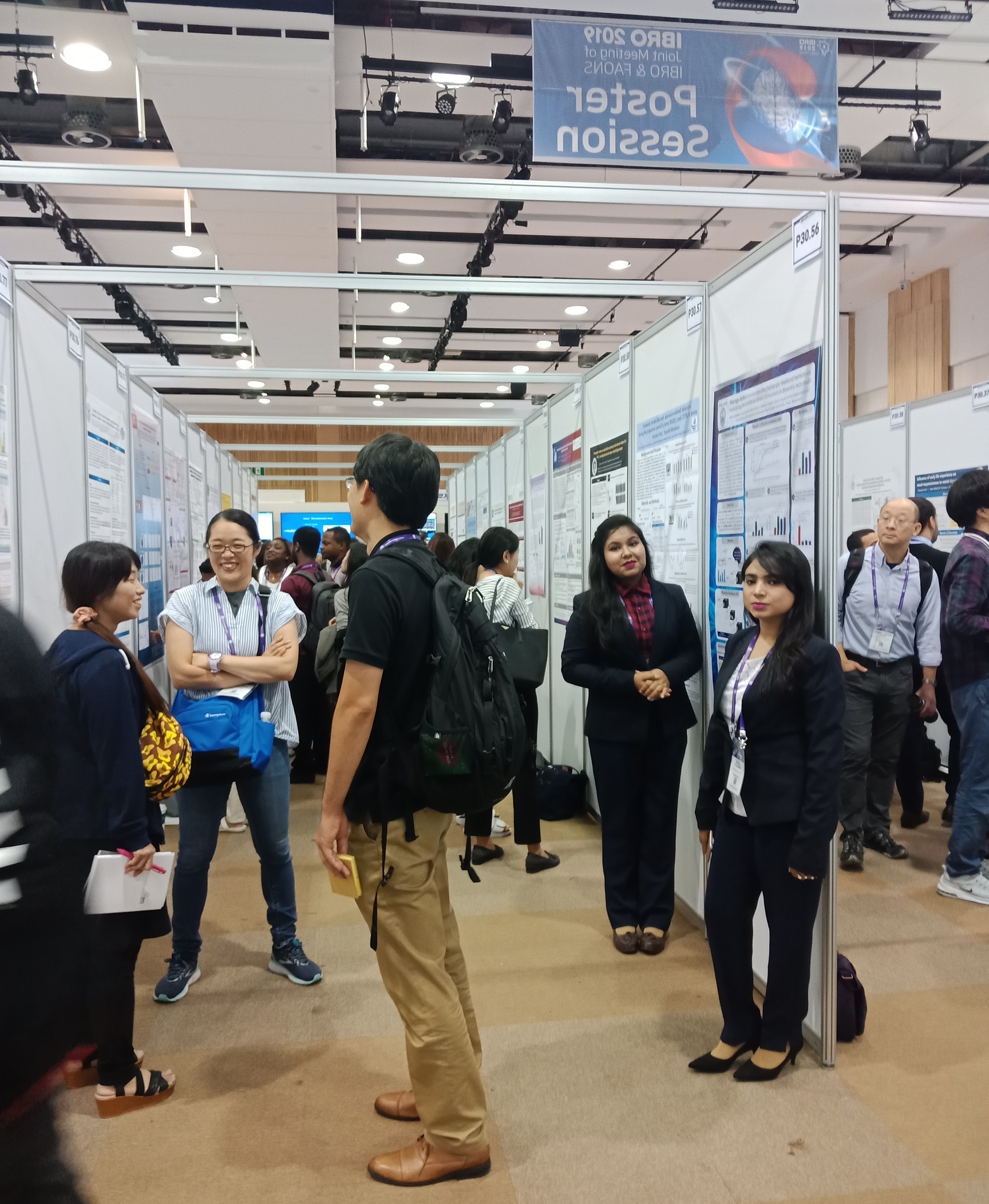 A group of students from the Department of Pharmaceutical Sciences, North South University successfully presented their research work at the International Brain Research Organization (IBRO 2019), the 10th IBRO World Congress of Neuroscience, held at Daegu, South Korea, 21-25 September, 2019. NSU undergraduate students Farhana Yasmin and Sadia Yeasmin showcased their poster at IBRO 2019. Their research was done at the Behavioral Neuroscience lab at NSU under the supervision of Dr. Md. Ashrafur Rahman. The research was done with the help of three other undergraduate students: Israt Yesmin, Sadika Islam, and Abdul Kaium. The title of their poster was "Moringa oleifera ameliorates the cholinergic-mediated memory via modulating the oxidative stress biomarkers in dementia mice model", focusing specifically on the treatment of memory loss. Their work had already won the first runner-up during the Pharmafest 2019, held by NSU.
Student Research Highlights
Congratulations to NSU students in Department of Environmental Science & Management and Department of Electrical and Computer Engineering for successful co-authorship and publication with NSU faculty member Dr. Mohmmad Sujauddin (research team leader) in several journals:
Names of Student Co-Authors:
| | | |
| --- | --- | --- |
| Sl | Name | Department |
| 01 | Mr. Bidhan Bhuson Roy | Environmental Science and Management |
| 02 | Ms. Shupa Rahman | Environmental Science and Management |
| 03 | Mr. Nahian Ahmed | Electrical and Computer Engineering |
| 04 | Mr. Riasad Bin Mahbub | Environmental Science and Management |
| 05 | Mr. Amit Robert Baroi | Environmental Science and Management |
| 06 | Ms. Nidhi Gloria D'Costa | Environmental Science and Management |
| 07 | Ms. Ahmad Saraf Tuba | Electrical and Computer Engineering |
| 08 | Mr. M. Nazmul Islam | Electrical and Computer Engineering |